Don't be scared.
Don't panic.
It's normal.
I started dreading a few months ago. While I liked the front of my dreads okay, the back looked HORRIBLE. I couldn't handle it and combed my dreads out. Yep, I just gave up. I thought I must have done something wrong.
But, I was still REALLY wanting dreads, so I decided to try again. This time, I decided I'd do whatever it took to make them look right, so I read up on how to use the hook and how to use wax.
And after reading up on those things, I realized that the best thing I could do for my dreads was to NEVER use a hook or wax. But that left me where I started.
The way my dreads looked the first time couldn't be right. There HAD to be something I was doing wrong. But, I read up on them and found out that I was pretty normal. Dreads don't look like "dreads" from day one (at least, not if you're doing them the best way). They look pretty ratty, nappy and, to be brutally honest, a little gross. Well, at least probably to others. I'm beginning to see the beauty in them.
I think the problem I had was that every time I looked at pictures of dreads, they were all well locked. The dread "owners" had probably had them for years, while I'd only had mine for a few days.

It seems no one wants to post pics of dreads in their "yucky" stage. So, that's where I come in. I'm going to do what few people seem to do and what MANY newbies really need. Here's a pic of "normal" when it comes to young dreads!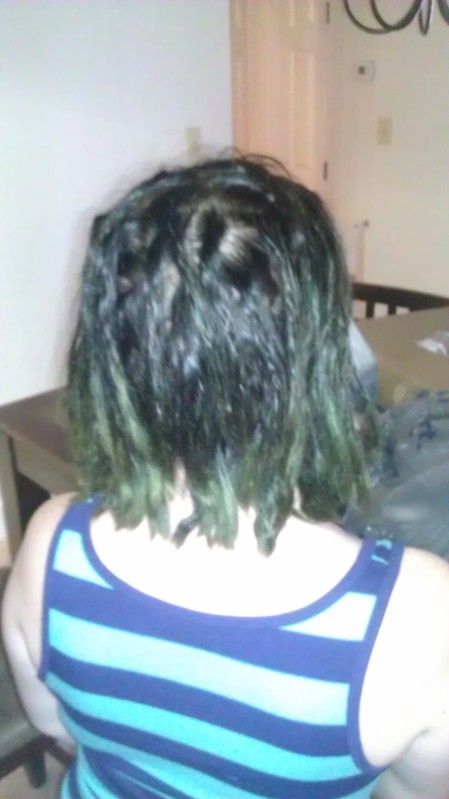 First of all, you may be asking why my hair is green. Well, it WAS purple and I tried dying it brown to cover up the purple, but it turned out green and I didn't notice it until I'd dreaded, so now I'm stuck with the green for a bit.

But you can see that they DON'T look like regular dreads. Again, from the front they aren't bad, but this is pretty ratty. So, don't go crazy when your dreads don't look "right" from the start. You're normal. Your hair is normal. And it WILL do what NORMAL hair wants to do (form locks) if you'll let it.
So, for me, I'm happy with them. I'm learning to love the process instead of just looking forward to the goal.


updated by @snick: 01/13/15 09:33:33PM